First Penance and First Holy Communion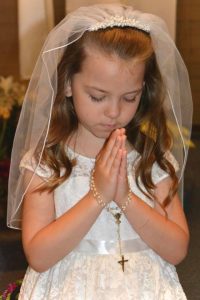 A candidate must be a baptized Catholic. If not baptized at St. Mary Our Mother, a baptismal certificate is required.
Candidates for First Penance and First Eucharist must have participated in regular religious education or have attended Catholic School for the year preceding enrollment for preparation of the these sacraments.
Candidates are to have the use of reason, which is canonically presumed at the age of seven.
Catechesis and celebration of First Eucharist is to be separated from that of First Penance. These Sacraments shall ordinarily take place when a child is in grade two.
First Holy Communion – August 23, 2020
First Holy Communion – August 22, 2020
First Holy Communion – August 8, 2020