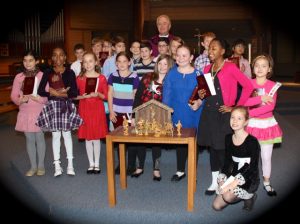 St. Mary Our Mother School is committed to providing an excellent Catholic elementary education from pre-k through grade six. We provide a small school setting in a warm and nurturing learning environment with dedicated teachers who help to guide students spiritually, academically, and morally. Founded in 1959 as an educational ministry of St. Mary Our Mother Parish, our school welcomes children of all faiths, throughout the Southern Tier, to be part of our school community.
Faith/Outreach offerings include
• First Friday Masses;
• Monthly service projects (i.e., Christmas baskets, food collection for the Food Pantry, nursing home visits, Operation Rice Bowl);
• Catholic Schools week (January/February);
• Living Stations of the Cross; and
• May Crowning – Grandparent's Day celebration.
Additional benefits include
• Student voice (Student Council);
• Parent voice (Parent Advisory Council);
• Extra-curricular clubs (i.e., Art Club, Cooking Club, Gardening Club);
• Stay and Play after-school care program (2:30 – 6:00 pm);
• Early arrival program 7:30 – 8:00 am;
• Busing from local public school systems; and
• Availability of financial assistance.
Parent Association
The Parent Association promotes communication between school and home, encourages parental participation in and support for the school, and serves as an example of Christian service to students, teachers and parents. It directs the talents of parents and friends who serve as volunteers in the school.