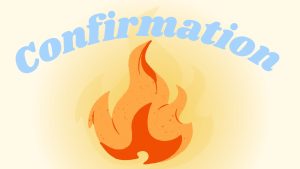 Confirmation is a two-year preparation program. Starting in 8th grade, the candidate will attend classes, and retreats, and participate in fun service activities. Typically in May of the candidate's 9th-grade year when Confirmation takes place. A candidate must be an active member in previous Faith Formation classes (for at least one full year).  To be a candidate to receive the Sacrament of Confirmation one must be Baptized in the Catholic Church and have received the Sacraments of Reconciliation and First Holy Communion.
Click here for Confirmation Requirements: Confirmation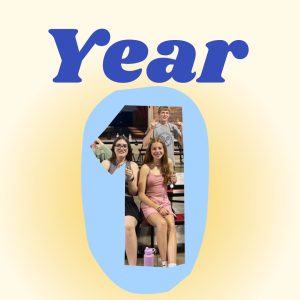 Year 1 Confirmation: Typically begins in 8th grade. The year 1 group is required to come to classes and Youth Group meetings throughout the year. Year 1 focuses on the History of the Church, foundational principles, sacraments, and other important parts of our Faith. These classes reintroduce and build upon topics learned throughout Faith Formation. Year 1 also focuses on outreach. There are several service projects and opportunities along with Youth group meetings that they take part in.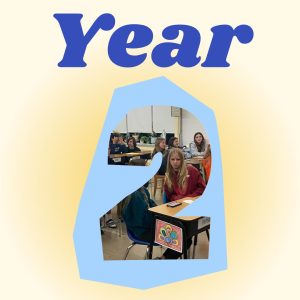 Year 2 Confirmation: Typically begins in 9th grade and a candidate must have completed Year 1 before beginning Year 2. Year 2 includes regular classes as well as an immediate prep class closer to the time of Confirmation. These classes focus on living our lives as Catholics by learning about the Spiritual and Corporal works of Mercy, Gifts of the Spirit, and being disciples of Christ. Year 2 is also when a Saint and a Sponsor are picked. Both help guide the candidate toward a deeper connection with God. Year 2 candidates are also required to partake in even more service activities through the mandatory Youth Group meetings.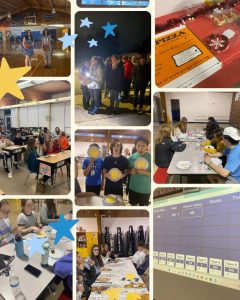 Want to learn more about Youth Group?
Youth group is a mandatory part of Year 1 and 2 confirmation. Meetings are once a month, focusing on community building. Service activities and opportunities are also given to Youth Group members to fulfill the Service requirements in both years of Confirmation.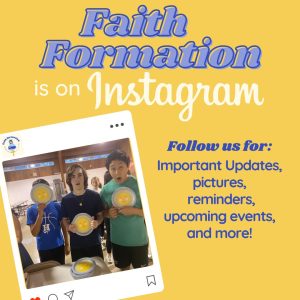 Youth Group and Confirmation updates and pictures are regularly posted on our Faith Formation Instagram! 
Make sure to Follow us!