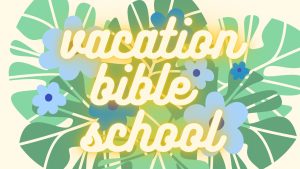 Vacation Bible School (VBS)
This is a new addition to the SMOM parish, in 2023. Vacation Bible School lasts for
 four days and it's a great way to bring together the children of our community. VBS has a fun and new theme for children to explore each year. Focusing on a different aspect of our Catholic Faith, this week-long experience will allow children to build on their faith. Every day there are new activities, songs, crafts, and games related to the theme and connecting back to Bible lessons.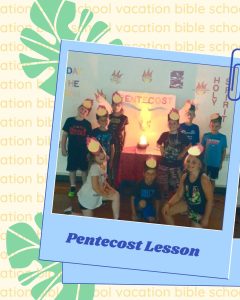 VBS is a fun way for children to build on their faith education from Faith Formation. VBS is similar to the very popular Summer Intensive Program from a couple of years ago. However, participating in VBS doesn't count as a year of Faith Formation. This Vacation Bible School is an additional resource for the families of our parish to learn and grow on their faith foundation together. 
2023 VBS Info: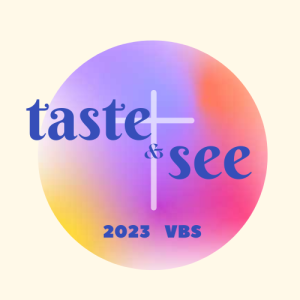 As a country, we have entered into a Eucharistic Revival. "The Eucharistic Revival is a three-year initiative that aims to inspire, educate, and unite. In a world where not, many people know Jesus intimately, the revival is meant to show everyone what wonders the True Presence of Jesus can do to heal the soul." Wanting to inspire, educate, and unite our younger generations, our 2023 VBS theme is "Taste and See."
Want to learn more about the National Eucharist Revival? Click Here!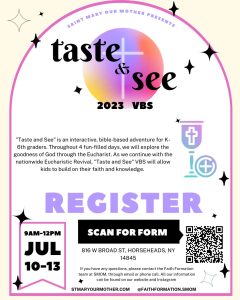 Information:
– Open for kids in K through 6th grade 
– Going from July 10th to 13th from 9 AM to 12 PM 
– No Payment Involved 
– Volunteers needed! (Parents and Youth Catechists grades 7-12)
Sign Up using the Link Below!