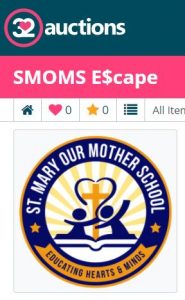 The virtual Art & Basket Auction fundraiser for St. Mary Our Mother School ends Thursday March 25th at midnight!
Please check it out at : www.32auctions.com/Escape2021
This is a fun event that the kids spend a lot of time preparing for and watching. Our goal is to raise money to allow the school to keep tuition affordable and to keep the parish subsidy to the school budget as low as possible. Thank you for your support!